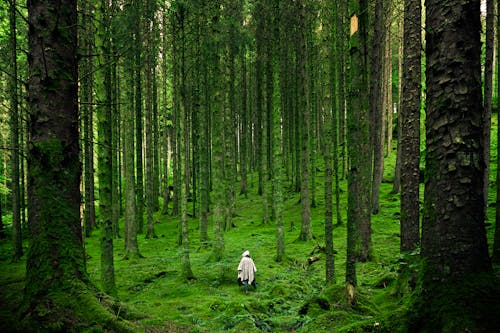 "Take this food to your cousin.  She has a bad cold and needs soup," said White's mother.
"I thought you said the woods were dangerous."
"They are.  Be careful."
"How careful can I be?  I'm a little kid."
"Just do your best."
"Why don't you go, or come with me?"
"I have a lot to do."
"I could get lost.  I could die.  Then what?"
"You're being dramatic, and if you die, then you won't have to worry about going into the woods any longer."
"Why can't we live in the city?"
"If you keep talking, it will be dark by the time you come home."
"Why do you hate me?"
"I don't hate you.  Take Peanut butter and Jelly with you."
"I was going to do that already.  I'm not stupid, you know."
"Take this gun too," said her mother.  "Just slip it into the basket."
"Okay.  And while I'm gone, think about why you want me out of your life."
"Say hello to Margo for me."
"If I live that long," she whispered.
Little White Riding Hood left the cottage and stood on the front porch.  She looked at the sky and sighed.  "Cloudy," she said, to no one in particular.  "That means it will be even darker in the woods."  She pulled up her hood and whistled for Peanut Butter and Jelly.
The gigantic wolves came running toward her, their eyes glowing.  They skidded to a halt in front of her and danced with joy.
"I love you too, but I just saw you an hour ago, remember?"
They licked her face and bumped into her.  She petted them and kissed them until they calmed down.  Then she explained that her mother was trying to kill her and she had to take soup to her sick cousin.
The wolves nodded and headed toward the path.  White walked between them.  She sang wolf songs and gave them treats as they went.  Sometimes she tried to skip, but it was hard to do in the damp undergrowth.
The wolves darted away and killed an evil huntsman.  White thanked them and gave them hugs, trying not to get blood on her white cape.  They did it again, a half an hour later.  A rabbit joined them and so did a fawn.  Their party of three had turned into a party of five.  Another huntsman's body went down, and his remains would feed more animals.  Finally, White could see her cousin's cottage ahead.  The wolves raced back and forth, frightening the rabbit and the fawn.  White, calmed everyone down, again, and knocked on the door.
No one answered.
"Can you die from a cold?" asked White, looking at her companions.
No one said anything, so she pushed the door open and went inside.  The bed was made, there was a fire in the fireplace and everything looked neat and tidy.  There was a note on the table that read:
To anyone stopping by:
I'm out dancing.  There are cookies in the cupboard, help yourself.  I won't be .home for a really long time.  Thanks for dropping by.
Love, Margo
White took off her cape and put the kettle on. Once everyone was inside, she lit the candles and started heating the soup.  Then she made toast and found enough food for everyone to be happy.
"We're having a party," she told her friends.  We're staying overnight and I have a gun, so you don't have to worry.   Once she said that…everyone started to worry.  Then they barricaded the door and had a wonderful time.  The fawn and the rabbit slept on the bed, while White and the wolves slept on blankets in front of the fire.
When White didn't return, her mother wasn't worried. White could handle herself.  So she cleaned up the cottage, had a cup of tea, and went to bed.
The next day, White went home, walked past her mother and went directly to her room.  Ten minutes later she left, with all of her belongings.   Her animal friends, danced around her and she laughed. "I was only gone for ten minutes," she said, as they started walking away.
Her mother stood on the porch and waved, but White didn't look back, because sometimes family, is the most dangerous thing there is.