Posts tagged 'CHRISTMAS'
Photo:  Lisanto
Unsplash
Pixabay
everything sparkled
gift boxes
were beautifully wrapped
with the finest paper
tied with gorgeous ribbons
holly and silver bells
the final touches
the tree
stood straight
and tall
covered with lights
and ornaments
collected throughout her life
candles flickered
and music played
but the boxes were empty
and her lovely table
was set for one
any dancing
would be done alone
and the night ahead
was waiting
to be filled with
memories of the past
when strong arms held her
tightly
and words of love
were whispered softly
in her ear
Picture: Oixabay
Santa
came to America
and found that
the streets weren't paved
with gold
they were covered
with corruption
greed
and homeless people
blood
and racism
poverty
violence
sexism
and hatred
the haves
and the have nots
someone hit him
took his
boots
his red suit
and his hat
he was cold
his stomach rumbled
hunger and thirst
made him tired
he had no cookies
or reindeer
no sleigh
he thought about the presents
he left for the children
useless things
when what they needed
was safety
health care
FOOD
shelter
clothing
education
protection
and he wept
for he had none of those things
to give
but after sitting in an alley
next to a sleeping man
he realized
that he could do something
he could take
instead of giving
he could
become a new
Robin Hood
taking from the rich
and giving to the poor
he could leave coal
at the homes of those
in the government
he could change
CHRISTMAS
yes, yes
he could do that
he could make America
a better place
but first
he needed
to find his way home
Photo:  Donald Teel
Unsplash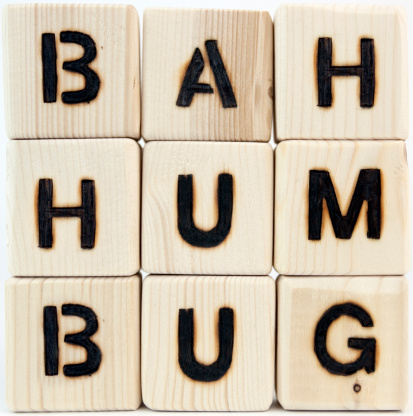 …they don't like the commercialism, the crowds, the hype, shopping, the whatever.  Everyone can be what they want to be, right?  However, wanting to hang around with humbugs, is up to each of us.
Personally, I LOVE THE LIGHTS AND THE CROWDS AND THE ENERGY AND THE GLITTER AND LIT HOUSES AND MUSIC AND BOWS AND DOGS WITH SANTA HATS AND PRESENTS…OMG…I ABSOLUTELY LOVE PRESENTS.  I love surprises, no matter how tiny.  If someone gives me an early gift, it's opened immediately.  I mean I could die before Christmas, and then I'll never know what's inside.  I don't wait for anything.
Humbugs can't get me down.  Too many sparkles to dampen the spirit.  See, it's the ONLY time of the year when our collective consciousness agrees that it's a special time of the year.  It's the only time we actually decorate EVERYTHING WE CAN, and pass out gifts.  Cut-out snowflakes, make popcorn strings for the squirrels and birds.
Christmas is not a religious holiday for us.  We don't believe that stuff.  They just stole everything from the pagans.  It's a time for reindeer, and stockings and singing, even if alone, snow people, and twinkle lights, or just having a peanut butter and jelly sandwich with your cat.
It's Snoopy and Charlie Brown, it's Eloise at Christmas (I LOVE her dog), it's Die Hard (yes that is a Christmas film), and ELF.  It's all the movies and music.  It's people with wreaths on the front of their cars.  Kids in weird hats with ears, dogs with antlers, and lights, lights, lights.
You don't have to have a lot to enjoy Christmas.  It's a holiday that's simply SHARED by all of us.  We agree to it.  It's one of a kind.  It's the ONLY ONE LIKE IT.  You can join in, or stay home and sulk, wish things were like they were two hundred years ago, or smile and jump in with both feet.
Naysayers, can say nay.  I love it.  Reindeer bells, COOKIES, houses that smell like cinnamon.  Homemade gifts.  Ornaments that bring back memories of love…and loss.
Even if alone.  Turn up the music and dance.  Because it's Christmas and almost everyone is celebrating at the same time.  Christmas Eve is fantastic.  Christmas Day is for laying around.
Christmas is remembering.  It's adding to the memories.  It's about laughing and unwrapping something folded in newspaper, for your cat.  All the animals get gifts.
Store windows, brownies from a box mix.  Hot chocolate and snowballs. REALLY BIG snowflakes.
If you want to have fun…you can.  Just don't buy into the humbug mentality.   Humbugs look at colored lights and thing they're a cheap gimmick, but you can look at them and see magic.
Years and years and years ago, we stopped getting together with family.  They were humbugs (his, not mine), and were awful people to be around.  So we gave up family get togethers, for our own sakes, and just had Christmas with our kids.  From then on, we were truly happy and had a blast.  No more dreaded long icky hours spent with humbugs fighting and being mean and horrible.  Seems like a lot of people are afraid to do that, but I'm all about having fun and not suffering.  Didn't want to ruin what should be a fabulous day for our kids and ourselves.  We wanted happy memories and the only way to make them, was to stop seeing everyone else.   So we said no to humbugs, and YES TO CHRISTMAS and joy.  Best decision we ever made.  All we have are happy memories.
Photo:  Pixabay
Photo:  KarstenWomegeart
Unsplash
Photo:  Karen Winegeart
Unsplash