Posts tagged 'cats'
Cats are perfect
each and every one
gracefull
agile
ballet dancers
they make the world
more beautiful
by just existing
Photo:  Nour Betar
Unsplash
I wanted to write something about bookstores but when I started looking through the photographs of BOOKSTORES I GOT SO EXCITED THAT I WANTED TO TRAVEL AROUND THE ENTIRE WORLD AND GO INTO ALL OF THEM EVEN IF THEY DON'T ALL HAVE CATS…WHICH I THINK SHOULD BE MANDATORY.
So, I got sidetracked because that's what happens when your a book addict.  Too much of a good thing and then you just kind of lose it.
Anyway, I decided to write about cats instead, because cats are clever and intelligent and can frequently be found sleeping on books.  They are able to absorb the story, or knowledge, through their bodies, as they nap.  Really, it's true.  That's why cat's know everything…they just KNOW.  I mean how could they not?
Some cats move into bookstores because they get a lot of pets and greetings.  Ear rubs and even kisses can often be in the mix.  Yes, yes, not every cat likes that, but there are enough who do, that it makes people fall in love with them and then those people go into the shop to visit the cats and end up buying books and things, hoping one day, if they read enough, they'll be as smart as the cats they stop in to visit.
The cats get a home and food in exchange for their work but everyone knows that the owners and staff love the cats and that's the real reason cats like bookstores.  Cats also stop mice from nesting between covers of books and using the pages for bedding, because that's what mice do.  Chewed up paper makes soft beds for pink, tiny mice babies.  But if cats happen to like mice, then the cats will look the other way when the mice are in in the sale bins.
So here's a picture of books, because I was originally going to write about bookstores but ended up writing about cats and mice too because sometimes, your brain has ideas that are quite different from the one's you think you're going to go with.  Know what I mean?
Picture:  All Bong
unsplash
And here's a picture of a mouse, in case you forgot how absolutely adorable they are.  The make wonderful friends, that's why some cats like them.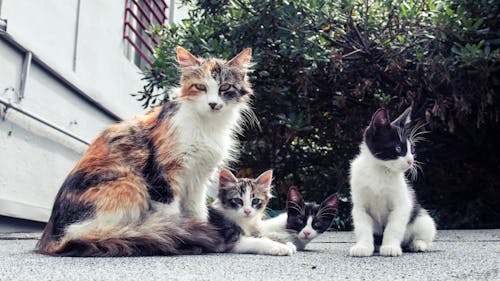 "Now I can breath easier.  There's a new sheriff in town and we are no longer in an abusive relationship we couldn't run from.  The whole country, except for republicans, is lighter and full of hope.  It's a good day for my kittens.  It's a good day for the world."
Umit Ozbek
Pexels
Anyone who knows cats, knows that everything belongs to them.  It's something we humans simply have to accept.
I love that they mark the things that are special, or important, to them.
The cat in the picture is marking her dog.  Wherever the dog goes, all the other cats will know he is Mitzi's dog.  It's a nice, simple, way to  let others know he's taken.  They do that to us too, of course.   Emmie marks me every time she sees me. I belong to her.  I'm okay with that.  In fact, I wouldn't want it any other way.