Archive for the 'war' Category
Photo:  Holly Mindrup
Unsplash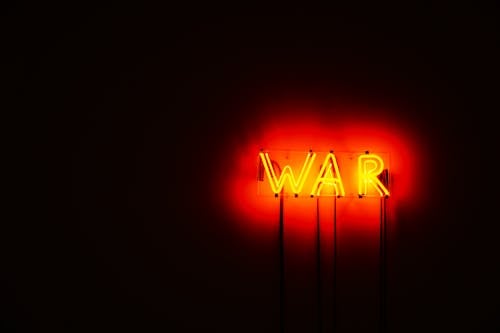 "Can I buy you a drink?" he asked.
"I'm the bartender, so sure," she said, pouring a non-alcoholic splash of liquid into a glass and knocking it back.  "Thanks."
"I'm new here."
"Tell me about it," she said, wondering what her cat was doing and where she was sleeping at the moment.
"What do you want to know?"
"Whatever you want to tell me, but after I get this guy his beer."
She came back.  "Go ahead."
"Why is this place called WAR?"
"The sign was on sale."
"Seriously?"
"No.  Of course not."
"Then why?"
"Where are you from?  America needs to know."
He laughed.  "Was it the accent?"
"It's usually the accent, followed by eye contact, clothing and manners."
"Ah. I see."
"So?"
"Another, please," he said, pushing his empty glass forward.  "I really want to know why the bar is called WAR."
"I really want to know where you're from," she said, plopping an olive into his drink.
"Seems we have arrived at a stalemate."
"Looks like it," she said, putting his change down next to his napkin.
"You don't like me," he said, looking at her curiously.  "Most people like me right away."
"I don't like anyone, so it's not personal."
He laughed and took a sip of his drink.  "You're a good bartender."
"I know."
"I came in here because of the sign."
"Your money's as good as anyone else's," she said, filling a tray with drinks.  "Don't know why you're so fixated on the name of the place."
"Because this is where it all begins," he said.
"Where what begins?" she asked. putting a fresh drink in front him."
"There was a time when war didn't exist."
"Only because there weren't enough people and weapons.  People didn't realize how much money they could make over the dead bodies."
He smiled.  "All true, but it's more than that."
"I really hate games and I'm not good at pretending, so what's your deal?"
"Could I have more olives, please.  We don't have them where I'm from and they're delicious."
"You don't have olives?"
"We don't have a lot of things."
She put a dish of olives onto the bar.  "Let's begin again.  Where are you from?"
"I'm from the future and your organization has been infiltrated by a government agent.  In two weeks they are going to dismantle your anti-war group, by raiding this place and killing all of you.  We can't let that happen. WAR is the determining factor in the future of humankind.  And before you say anything, I know this sounds unbelievable and you think I'm making it up but…"
"If you're from the future, shouldn't you already know what happens?"
"I'm here to change the future."
"I thought you guys couldn't do that.  HOLD YOUR HORSES BRUCE, I'M MAKING YOUR DRINK RIGHT NOW.  JUST SIT DOWN AND WAIT LIKE EVERYONE ELSE, YOU BIG JERK."
"I LOVE YOU," shouted Bruce.
"THAT'S THE REASON I'M GIVING YOU THE GOOD STUFF, YOU MORON," she laughed, putting his drink on a tray.
"THANK YOU BABY," he yelled.
"I TOLD YOU NOT TO CALL ME BABY."
"I KNOW!"
"DON'T MAKE ME SPIT IN YOUR DRINK!"
"Would you do that?  Spit in his drink?"
"You were saying? Government moles and all?"
"Civilization is at a turning point."
"What else is new.  It's always at a turning point. Look, if you're from the future, you know how it all ends, so stop wasting my time and either get to the point or talk about something else."
"Aren't you curious?"
"About what?"
"The fact that I'm from the future?"
"I'm a BARTENDER, look around you.  See the guy over there, the one with the headphones on?"
"Yes."
"They aren't attached to anything.  He just can't stand the noise on this planet, so he wears them all the time.  The guy next to him, the one with the blue tinge to his skin, swims fourteen hours a day, because he's from a water planet.  The woman in the green dress works for Mother Nature and she's pissed off at what we're doing to the planet, the…"
"So what your saying is that I'm not that big of a deal."
"Small fish…big pond.  And like I said, if you're from the future everything already happened, even your visit here, right?"
"It doesn't work that way."
"Sure it does," she said, smiling at a new customer, taking her order.
"You're being difficult," he said, when she returned.
"Look," she sighed, wiping up a spill.  "You can't have it both ways.  If you're from the future, you know what happens…"
"I'm here to CHANGE what happens."
"So, you didn't see your visit here, and the outcome, while you were living in the future?  You mean the future stops?"
"If you could go back, this very moment, and kill Hitler before he became the monster he was, you would change everything, but you WOULDN'T know what the outcome of your act would be.  Get it?"
"That's a good point.  I never thought of it that way, so tell me more."
"Without war we were hoping the world would be more peaceful.  Maybe people would learn to be happy and stop fighting.  Equality might be easier to bring forth and the greedy people in charge wouldn't be able to make money off of the dead.  It might give the human species a little more time."
"What do you want me to do?"
"This is the agent who is going to burn you," he said, showing her a picture.
She looked at the picture then at him.  Her eyes clear, but filled with pain.  She turned and looked at a guy passing out drinks, laughing and wiping his hands on his white apron.
"Are you sure?"
"Positive."
She walked out from behind the bar and went to the guy.  She put her arms around him and kissed him.  He held her and smiled, as the crowd applauded and shouted.  She whispered something into his ear and the color drained from his face.  She ran her hand down his chest and walked away.  He fell to the ground and didn't move.
"Does that change anything?" she asked, when she was back behind the bar.
"Everything changes everything," he said, watching someone give the guy CPR.
Photo:  Maciej Jackowski
Pexel
Charlie X47
had been through the war
the second wave
that was expected to be weaker
wasn't
he was an old fighter
smart and fast
the younger soldiers looked up to him
admired his magic
his cool
it was rumored
that he couldn't be killed
and from the skirmishes
he survived
many believed that was true
the old warrior
knew how to think
like the enemy and
that's what was needed
if one wished
to hide in plain
sight
Picture:  Pixabay
Is the war over?  Are they still fighting?  Are military people getting the virus?  Are they "isolating?"  Why don't we hear anything about what's going on with them?
I took this picture of the display but there were more on the other walls
logan@pewpewhq.com
If you are a vet or know someone who is…this is the website.  They have info for vets and ways to help them.  Look them up.