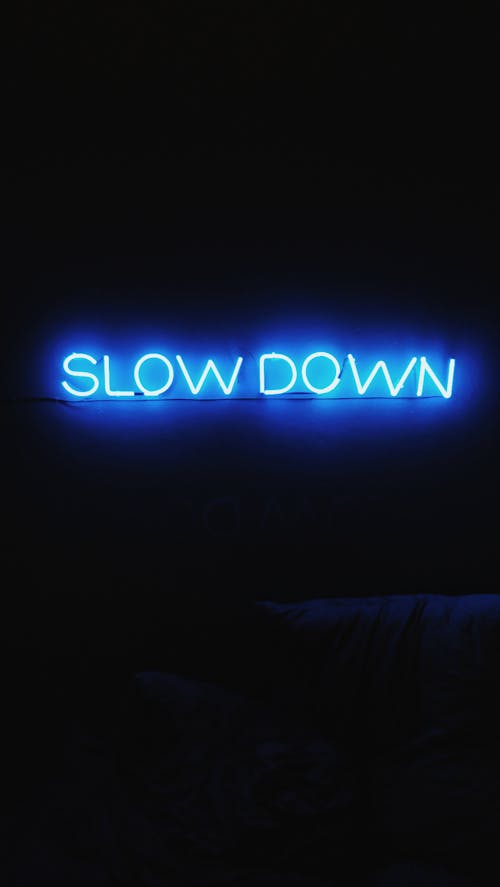 She leaned against the glass door and practically fell into the lobby.  She straightened herself and went to the desk.
"Yes?  Can I help you?" asked the man greeting people.
"That's a really heavy door."
"So I've been told."
"I want to know why you think it's a good thing to slow down?  What if some people want to go fast?"
"It's just the name of the place," he whispered, bending over, hoping she would leave.  "It doesn't really have to mean anything."
"People are always saying slow down and smell the roses, or going on and on about how much people who go fast are missing.  Those people would be wrong."
"Okay, fine," he said, smiling at the people behind her, pointing them toward the interior of the bar.
"I think people who go slow miss a lot more because they only see one or two things, while the rest of us fast people see everything, or almost everything."
"I agree.  Now, if you'll just step out of the way…."
"And people are born with slow or fast personalities, so there's nothing wrong with being either one, although how people can go slow is beyond me."
"Of course it is," he said, looking at the line starting to form behind her.
"Slow is slow.  You can't get anything done.  I mean, I like to go fast, so does that mean I can't go inside?"
"It does not," he said, happily.  "In fact, why don't you go inside right now."
"What are you?"
"Excuse me?" he said.
"Fast or slow?"  What are you?"
"Uh, more in the middle, I think."
"So, not slow?"
"No," he admitted.  "Not slow."
"Do you own this place?"
"Seriously?  Do I look like I own this place?"
"You don't, but I thought I'd ask, just to make sure.  I think you should add the word DON'T to the top of the sign."
"Don't slow down?"
"Yes.  You may get a bunch of different people stopping by, but they'd probably drink more and party harder."
He smiled, then started laughing.  "You might be right."
"All the people who are going inside, look like they could fall asleep."
"That's not true," he snickered.
"Words need to be chosen carefully."
"They do."
"It's not the journey, it's the destination that matters."
"I always thought that was true."
"It is, for a lot of us.  But those who want to hold people back, the people who come to this place to go slow, don't get that."
"They certainly do not."
"I'm not saying it's wrong to want to go slow, I just don't understand why some think it's wrong to go fast."
"You're bring up some very good points," he agreed.  "So you're a fastie?
"I am."
He tore off a sheet of paper from the ledger in front of him and wrote DON'T ALWAYS in big letters, with a marker.  The he taped it above the sign on the wall.
"Thank you," she said, looking at the people behind her.  "Fast and slow people can get along, at least for a few minutes, you know."
People started mumbling and snickering.
"I mean it's hard for fasties to drag things out when here's so much they want to see and do, but it is possible.  So now this club is open to all of us.  Slow isn't for everyone, neither is fast.  But it's okay to be either one."
There was a smattering of applause, although some people left, muttering about those awful fasties, always getting in their slow lanes.  Always in a hurry.
"Well, thank for your time," she said.  "Have a great night."
He watched her go, so did everyone else, for that matter, then a man in the back yelled, CAN YOU PLAY FASTER MUSIC IN THIS JOINT?  That's when the fighting broke out.