Archive for the 'Moon' Category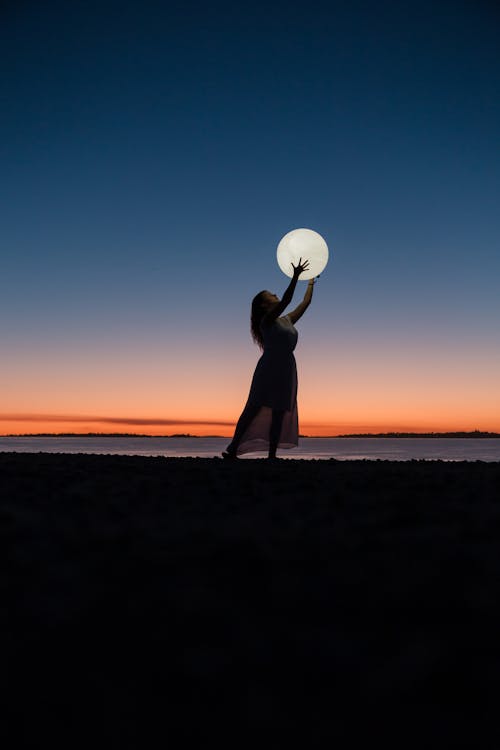 Photo: Ruvim
Pexels
once upon a time
when the moon was very young
and found out
that it didn't have
a light of its own
a girl
who was quite young herself
thought she head someone in the sky
crying
ARE YOU OKAY UP THERE
she called out LOUDLY
and the noise stopped
WHAT'S WRONG
she asked
the baby moon sighed
I just found out that I don't
(sniffed the moon)
have a light of my OWN
IS THAT A BAD THING
asked the girl
WHAT DO YOU MEAN
asked the moon
obviously confused
I MEAN WHY DO YOU CARE 
IF YOU DON'T HAVE A LIGHT OF YOUR OWN
I DON'T HAVE A LIGHT OF MY OWN EITHER
the moon was silent
then said
BUT I'M SUPPOSED TO LIGHT THE WAY
OH
said the girl
FOR WHO
FOR EVERYONE
WOW
THAT'S A BIG JOB
I KNOW
groaned the moon
I DON'T THINK MANY THINGS
HAVE THEIR OWN LIGHT
JUST THE SUN
REALLY
asked the moon
YES REALLY
SO I'M NOT THE ONLY ONE
OF COURSE NOT
the moon stopped sniffling
and felt quite a bit better
ARE YOU OKAY NOW
YES THANK YOU
I'D LIKE TO STAY AND TALK
BUT I FEEL AS IF I'M BEING PULLED AWAY
I CAN THROW A ROPE TO YOU
AND YOU CAN LOOP IT OVER YOUR EDGE
THEN I'LL HOLD ON TO THE OTHER END
AND YOU CAN STAY FOR AWHILE
I'D REALLY LIKE THAT
said the moon
so that's just what they did
and the moon stayed
as long as it could
and they had a lovely
evening chatting
and doing what
moons and little girls do
Picture:  Pixabay
People once believed there was a man in the moon.  They also believed the moon was made of cheese, but that's neither here nor there.  It's the man we're interested in.  You see, a man never lived in, or on, the moon.  No, not even for a little while. A woman was there for a few years, but she moved on because try as she may, flowers simply would not grow and without flowers, well, there was no reason to stay.  So the moon was basically just hanging there by itself.
Having said that, a man has always been involved.  You see, there's a kind of repairman, or janitor, if you will, who cares for the moon.  He sweeps and makes sure the craters are in order and the things we leave there, when we blast off, go into the Moon Museum of Junk Visitors Leave Behind.
The man doesn't live on the moon, he lives above it.  There are trap doors throughout the universe.  When it's time to care for the moon, which is hollow and made of metal, left where it is by the alien race that made it, the man simply opens the portal and using a special collapsible glider, he floats to the moon and back.
The moon, isn't empty.  It's filled with humans, other worldly beings, and lots of stuff.  There are photographs, which are doctored by the government, that before being touched up, show machines, smokestacks and ships, but we won't be allowed to see them as they are, only the versions that aren't real.  They fixed the Face on the Moon, so it doesn't look like a face.
Anyway, I hope this explains the whole Man in the Moon thing once and for all.  I mean it's about time someone told everyone what was going on.
Photo:  Pixabay
Katie
was born outside
on a clear night
under a crescent Moon
the first thing she saw
through her blurry vision
was that beautiful sliver
of white
hanging in the sky above her
she cooed
at it
and kicked her feet
opening and closing
her tiny new fingers
she reached out
toward the Moon
and the
Moon
took notice
the Moon looked
down
and saw a new daughter
one of Her very own
so She placed
a crescent birthmark
on her wee right arm
Katie
fascinated
with the Moon
sang to Her
every night
she sang about
the Moon's beauty
she sang about
Her kindness
and when Katie closed her eyes
the only thing she ever saw
was that beautiful crescent Moon
smiling down at her
so if you hear someone singing
about the wonders
of the Moon
and the night sky
it's probably one of Katie's songs
but
if you listen carefully
in the dead of night
and you hear Katie
singing
and understand the words
then you may be one of the
Moon's
children as well
it never hurts
to check for a birthmark
on your right arm
the moon belongs
to everyone
anyone can get there
as long as
have a ladder
that's long enough
well
one that wouldn't
fall over
when standing up
which might be a
PROBLEM
but that's not the
ONLY PROBLEM
there's always the
atmosphere
still we shouldn't let
anything get in our way
of our dreams
if we have the ladder
that's the beginning
a way to start
and life is all about
starting
that's the one thing
you can never
ignore
you have to
start
or you'll
never
get anywhere
Photo: Pixabay
she couldn't keep track
of all those
who had gone on
before her
so she asked the Moon
when it was in its crescent form
if She would hold a star
for each of them
in Her arms
that way
she could
wave at everyone
and send them
love
the Moon said
She would be happy
to oblige
and from then on
whenever the Moon
was a crescent
She held the
girl's loves
in Her embrace
the
sun
was
bright
and
yellow
the
moon
a
silver
gray
their
edges
touched
and
mingled
turning
darkness
into
day
dusk
reached
out
and
kissed
the
dawn
they
mixed
their
dusty
rays
they
said
goodbye
and
closed
their
eyes
and
then
went
on
their
way
"Where are you going?" he asked, stretching.
"To hang the moon," she laughed. "Where do you think I'm going?"
He looked up, "Is it that time already?"
"You have been napping," she said, smiling at him.
He rubbed his eyes.  "So, time to go?"
"Yes, my sweet.  It's time to go."
"We are never together long enough," he whispered, sadly.
"One day we will be."
"Always 'one day,' but never today," he sighed, his light dimming, as her moon began to nibble at the edges of his sun, pushing him away.
"Until tomorrow, then?" he asked, knowing the answer.
"Until then," she answered.  "Shine brightly."
"I always do, my lovely Shadow.  I always do."
She closed her eyes and embraced her darkness knowing that, in spite of what people thought,  she could easily overcome the light.
Pixabay