Archive for the 'creativity' Category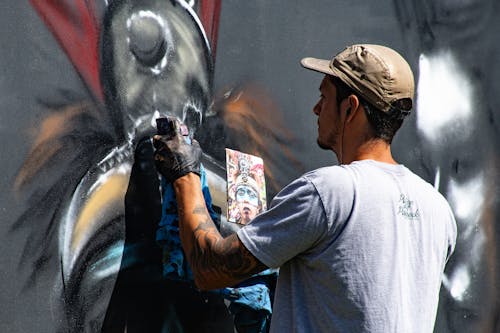 Photo:  Brett Sayles
Pexels
Photo:  Alexander Grey
Unsplash
Photo:  Anya Chernik
Unsplash
life is like a can of spray paint
it just sits there
with all its possibilities
locked inside
until someone
shakes it up
and lets the creativity loose
Photo:  Daniel Clay
Unsplash
I think we are going to have to be more creative than ever, in the future.  Things have changed…maybe for good…or at least until they get a vaccine that will last for a lifetime.  AIDS changed things, but so did polio, whooping cough, the Spanish flu, smallpox, Ebola and The Black Death.  Covid just one more thing.  The only differences being that there are a lot more people living right now, and we know more about disease and epidemics/pandemics than we did in the far distant past.
Many diseases never  "go away," we just have vaccines and medications that make them "stay away."  Those who don't believe in vaccines are bringing back polio and other things that have been gone for a years.
We are a creative species.  Look how many ways we can kill, torture, and destroy everything.   If we can come up with creative ways to destroy the planet and everything on it, why can't we come up with creative ways to stop the destruction?  Oh, right, greed.  I keep forgetting that money and power are more important than life, peace and equality.  Still, those of us who make up the herd should be able to do something creative to get rid the top three white guys who pul the strings.
The future is coming at us every microsecond, and in spite of the fact that we may be living in a "string," or on a "brane," or in a "hologram", stuff feels real, and people are suffering.  Maybe we aren't more creative because those of us who don't go to bed hungry, don't really think about being hungry every minute of every day.  And we have beds.  Maybe that's one of the biggest problems.  The false comfort we are ALLOWED to have, which keeps us from starting trouble.  SOMA for the masses.  Give us enough to shut us up and believe everything is just great, or at least not that bad.  That's how manipulation from the top down works.
We need to get creative and come up with some good ideas to get us through the new world we are currently living in.  Now is the time.  Things have broken down, so change has a chance to edge its way in.  We need to be creative in so many ways, because if we don't watch out, Amazon will take control of the world and then what?  We won't have any choices at all.
Photo:  Marija Zaric
Unsplash
we have painted our faces
since the beginning
to create fear
to be beautiful
to gather power
to become
other than we are
we wear ink
masks
and feathers
to get the attention
of the old ones
the four-legged ones
the winged ones
let's face it
we haven't come as far
as we think we have
Photo:  Joshua Rondeau
Unsplash
I can't sew.  Note even buttons.  My mother could sew, and my cousin can sew. My aunt, my cousin's mouther couldn't do much of anything…at all.
I often think my cousin should have been my mother's kid, but alas, gentle readers, you all know we get what we get and there are no refunds, or exchanges.   I would have been okay with giving my mom my cousin as a daughter, but none of us thought of it at the time.
My cousin looks exactly like her mother and I look like mine but who cares, right?
I tried to sew, for about fifteen minutes, but after that, I lost focus and everything took too long.  So, I wandered away.  Besides, I ended up getting knots in the thread, and wasn't interested in untangling them, or cutting things and starting over.
Basically, I have no patience at all.  I couldn't even use oil paints, because they took too long to dry, that's why I love acrylics and watercolor.
So, I left needle things to those two, although I do knit, using big needles, really big needles, if possible.  I also don't follow patterns, so imagine what you will.  But I digress.
Here's my point, and yes, there is a point, gentle readers.  Because it's kind of obvious, and yet, not as obvious as you'd think, I'm going to emphasis the point by using all CAPS!
EVERY ART FORM
AND CRAFT
CAME ABOUT
OUT OF
NECISSITY
OR
PASSION
BECAUSE
SOMEONE
COULDN'T SEW
OR SING
THEY FOUND
SOMETHING
THEY COULD DO
BECAUSE
HUMAN BEINGS
ARE
CREATIVE ENERGY
AND WHEN ONE FORM
DOESN'T WORK
PEOPLE SEEK
DIFFERENT
FORMS
THAT
DO
AND
THAT
IS HOW WE
GET
ART
BECAUSE
ONE SIZE
DOES NOT
FIT ALL
AND THE
CREATIVITY
INSIDE OF US
ALWAYS FINDS A WAY
TO GET OUT
always
Picture:  Pixabay
The most wonderful gift we can pass on to our children, is the gift of imagination.  Rather than filling their lives with activities, the time to play and dream is of great importance. Books or story telling, rather than video games and television, can stimulate the imagination of small children.
Being able to fly can last throughout a person's lifetime.  Being able to see things differently, to dream, even while awake, to believe in impossible things, is something that starts when children are young.
Even Albert Einstein said that "Imagination is more important than knowledge," and that is something that hasn't changed.
Creativity can be stolen from children.  Shut down before it ignites and has a chance to grow.  Being silly, covering the dining room or kitchen table with blankets,turning it into a tent and moving in, can create a whole new world.
While we are all stuck inside, we can move to Mars or even Pluto.  We CAN do anything we like.  We just have to let our imaginations run wild.
And remember, twinkle lights are ALWAYS in style.   Put them up and at night, you'll sleep among the stars.