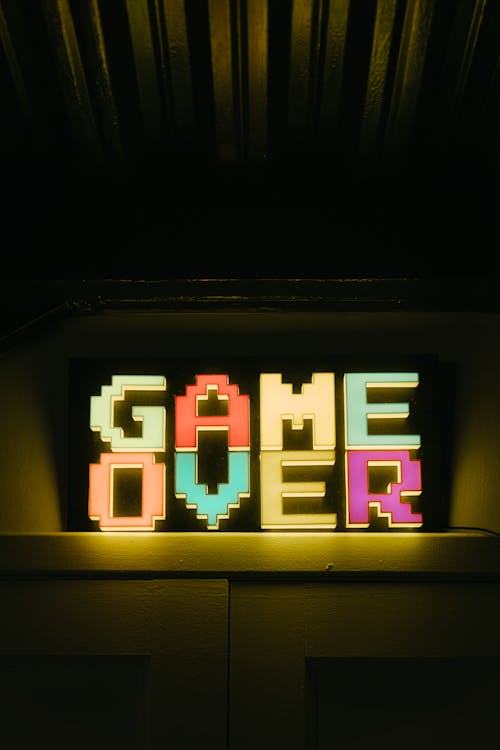 "Wait.  What do you mean, the game's over?
"Wow…I thought that would be clear to clear to everyone. Game over means theres's no more game to play.  I mean, what else could it mean?  Kaput, over, finished, done, turn out the lights and walk away, king of over."
"But I'm not finished," He whined.
"See, that's the thing.  I hear that all the time.  I wanted to do this, or that, go here, or there, marry him or her, read the classics, write a book.  It never really ends.  You'd be surprised how many things people wanted to do but never die."
"I…
"You're dead.  There's nothing you can do about that.  The game you were playing has been unplugged, completely disconnected," snickered, the tall thin man in the toga.
"I'm dead?"
"As a doornail," he said.  "But I'm not sure what that means, exactly, since I don't know if doornails were ever alive, or if that even matters.  Anyway, whatever you left unfinished will stay that way forever, or longer."
"How can something be longer than forever?"
"It's just a saying.  Nothing can be longer than forever, because forever…is forever."
"Are you new at this job?"
"Yes.  How can you tell," asked toga man.
"Not important.  What is important is that I want to go back."
"Not possible."
"I thought anything was possible."
"Seriously?  How could you think that, even for a second?  It's ridiculous."
The guy sighed.  "Yeah, I suppose you're right…but can't you make an exception?"
"Why would I do that?"
"I need to tie up loose ends."
"Shudda thought about that while you were alive," said toga man, knowingly.  "Most people think they have all the time in the world, so they let things go and then, BAM, they're here and have a million things to finish in the life they just left."
"I want to go back."
"No."
"Please."
"No."
"Is it possible?" asked the guy.
"Is what possible?"
"You know what I'm talking about.  IS IT POSSIBLE TO GO BACK?"
"You…are very LOUD!"
"Sorry, but you don't seem to understand how important it is that I go back."
"Need to apologize?  Tell someone you love her, or him?  Oh, oh, do you want to tell a person where a treasure is hidden?"
"Yes, yes and no.  I need to go back and make things right.  Is there a way?"
The toga man, crossed his arms and began to pace.  "There is a way."
"Do it!" said the guy, excitedly.  "Do it."
"It won't be easy and you might feel some pain."
"Fine, I don't care.  The pain will be worth it."
"You sure?" asked toga man.
"I'm sure.  Just tell me what I have to do."
"Well, if you're sure."
"Tell me what I have to do."
"Close your eyes and think of a happy place."
"Done.  Now what?" asked the guy.
"In ten seconds, you'll be back.  Ten, nine, eight, seven, six, five, four, three, two…and…"
"IT'S A GIRL," said the midwife to the new mother.  "You have a beautiful baby girl."
When the baby started screaming, everyone thought she was adorable.  Little did they know she was screaming in horror.
Photo:  Cottonbro Studio
Pexels