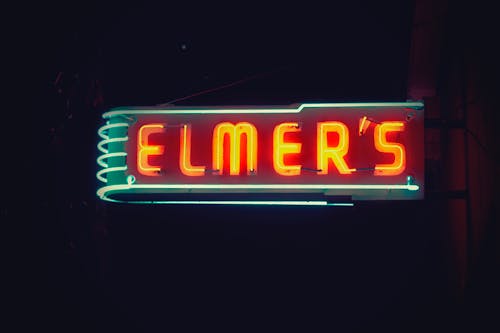 "Excuse me, but where's the glue?"
"Glue?" asked the woman behind the counter.  "What glue?"
"Elmer's glue."
"We don't sell glue here."
"You're kidding," he said.  "This is ELMER'S.  You have to sell glue."
"Look around.  This is a tattoo parlor.  Not a glue store."
"I thought it was an Elmer's Glue outlet," he said, seeing people in chairs, getting various designs put on their bodies. "Okay," he admitted. "You're right, it doesn't look like a glue store."
"Do you want a tattoo?  I can help you with that."
"What would I get?"
"No idea.  We have tons of art you can look at, or you can draw something yourself."
"Any suggestions?" he asked.
"What do you like?" she asked.
He thought for a moment, then said, "Ice cream.  I like ice cream."
She nodded and pulled up a picture of a dripping ice ream cone.  "I really like this one," she said.  "The drips run down your arm, and you can choose any ice cream you like, chocolate, strawberry, anything at all."
"Okay.  Strawberry, please."
"I think Denise is almost finished with her customer.  She has an hour open before the next one.  Maybe she'll be willing to take you."
"Thanks."
And that's how a guy shopping for glue ended up with a tattoo of strawberry ice cream cone dripping down his right arm.  But wait…there's more.  When he left, he saw a store on the other side of the street that said, WE SELL GLUE.  So all in all, it's wasn't such a bad way to start his week.
Photo:  Tim Mossholder