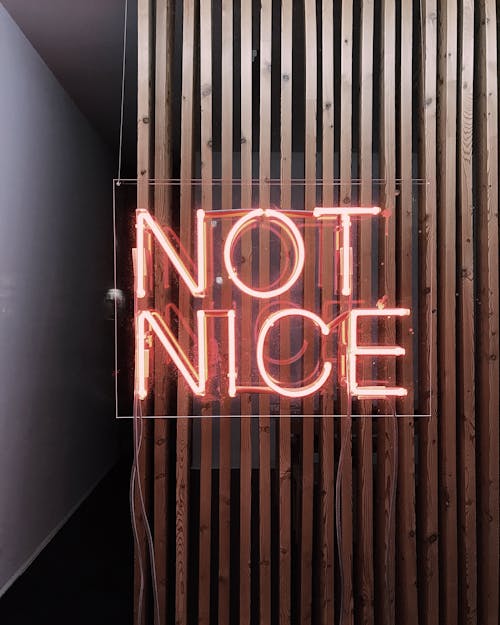 "How long have you been in standing line?" he asked, walking up behind her.
"A few minutes."
"I hate standing in line."
"I don't think most people like to do it," she said.
"So, you aren't nice?"
"No. Not really.  I imagine you aren't very nice either, or else you wouldn't be here."
"That's true."
"What does nice mean?" she asked.
He shrugged.  "I think other people believe that nice means giving them their own way."
She started laughing.  "That's the one that should be in the dictionary."
"I think it is, only it's spelled, MANIPULATION."
"True, but I think some people are just plain nice.  Not everyone wants something."
"I disagree.  In fact, I disagree strongly.  Everyone wants something.  For example, I want you to go out to dinner with me, so I'm being my nicest, so you won't turn me down.:"
"So you're not actually nice?  You're really a bad person?"
"You think not being nice, means that a person is bad?"
She thought for a minute and then said, "What's your definition of bad?" .
"Ah, yes, define my terms."
"Well, I can't answer your question if I don't know what you mean, or what you're asking."
"All definitions are personal and fluid, don't you agree?"
"I do, she said.  Still, bad describes things like pizza with soggy crust."
"I see what you're getting at," he muttered, biting his bottom lip.  "This is all very interesting.  Do you want to get out of line and get a pizza with a crispy and well done crust?  We can go to Mama's right across the street.  You can take my information, as well as my picture, and send it to anyone you like, so someone will know where you are and who you are with."
"Wow!"
"I understand how difficult it is to be a woman.  I have four sisters, all radical feminists."
"Did they beat you up a lot?"
"Only when I was being a sexist pig, so yes.  They beat me up a lot.  I'm still not perfect, at least according to them, but they don't hit me now, they just glare at me."
"Excellent," she said.  "So why are you in the NOT NICE line?"
"Actually, I just saw you and wandered over.  Besides, I know this place and it's just a cafe where the waiters are rude."
"I know.  I like to come here and make them cry," she chuckled.
"Wouldn't you rather have a pizza and rewrite the dictionary?"
"Sure," she said, as she held up her phone and took his picture.  "Why not."
Photo:  Daria Shevtsova
Pexels