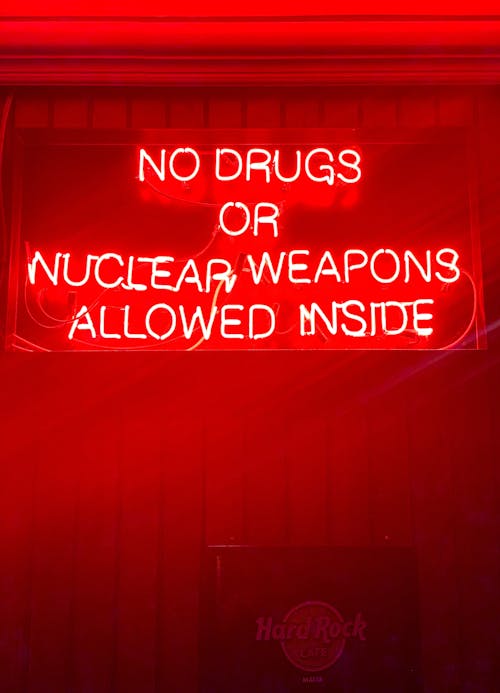 "Is this The Tiny Cafe on the Corner?" he asked.
She made a face at him, then pointed to the sign.
"Oh, yeah, sorry."
She pointed to the other sign.
"Do a lot of people bring nuclear weapons into the cafe?"
"You'd be surprise," she said, snapping her gum.  "What do you want?"
"Tea and toast."
"Big spender," she said, writing down his order.  "I can hardly wait to see my tip."
"Don't you want to know what kind of bread I would like?"
"If I wanted to know, I would have asked," she said.
"Don't you want to know if I have any drugs?"
"Do you?"
"No."
She walked away.
"Ah, Jimmy, I see you met Sassy," said his friend, slipping into the booth.
"Hey Joey.  I can only assume you're talking about the waitperson."
"Yes.  Isn't she fabulous.  I've been asking her out almost everyday, for the last six months."
"Why?"
"You're kidding, right?  She's amazing."
Sassy waked over to their booth, slammed the tea and toast onto the table, tore his bill, off her pad, and stuck it to his saucer with her gum.  Then she looked at Joey, rolled her eyes and said, "The usual?"
He nodded and said, "Please go out with me.  I'm begging you."
She ignored him and went to place his order.
"What could you possibly see in that woman.  She's rude beyond belief."
"You see rude, I see independence.  Unlike your Cindy who follows you around like a …"
"Cindy is wonderful and you know it.  Just because she doesn't have tattoos and she speaks softly, doesn't mean that she's not interesting."
"I never said she wasn't interesting," said Joey.
"Well, that's what you meant."
"No.  I think that's what you meant."
"Do you have any nuclear weapons or drugs on you?"
"I left them in my car.  I didn't want to upset Sassy.  She's funny about those things, especially the weapons," snickered Joey.
"I know you're joking."
"I'm not," said Joey, opening his arms, to let Sassy put down his plate.  She sat on his lap, put her arms around him and kissed him.  When she was finished, she got up and went back to work.
"What was THAT all about?"
Joey grinned.  "Every once in awhile she does it.  I never know when, or why, but the surprise is always a delight.  I'd love to marry her, then travel around the world with her by my side."
"You can hardly afford your apartment."
""I'd find a way."
"Seek help, my friend."
"Jimmy my boy, you always did take the safest path."
"Did not."
"Did too," laughed Joey, dipping a French fry in mayo.
"There's nothing wrong with safety," said James, primly.
"Never said there was."
"Yes you did.  And you always imply it, even if you don't exactly say it.  How many bones have you broken?"
"Five, why?"
"I haven't broken any."
"How could you, you never do anything."
"I…do…do things."
"No you don't, but who cares?  We aren't competing.  We're just friends who are different from each other, but again, who cares?"
"I do, because I'm boring!"
Joey burst out laughing.  "You're not boring, Jimmy."
"Yes, I am," he said, miserably.
"Well, maybe a little."
"More tea," asked Sassy, blowing a bubble.
"Ah, new gum?" asked Jimmy.
"So, no tea, then," she said turning to go.
"My friend wants to marry you and travel around the world with you at his side."
Sassy looked at Joey.  "Is that true?"
"It is," he said.
"I get off at six," she said.  "Pick me up out in front. We can leave after I pack."
Christopher Farrugia
Pexels